Kids Diy
How to Turn a Tree Into a Gnome House
Do your children like magical or fantastic characters? Do you want to spend more creative time outdoors? Last week, I offered you an article to make a fairy house with your children, today I suggest you turn a tree into a house for gnomes, garden gnomes, fairies, and other mystical and fantastic characters!
It's a fun project that encourages creativity and imagination while using simple materials that you probably already have at home.
In this article, I will tell you how to build a gnome house in a tree.
Why make a gnome house in a tree?
When you create a home for the neighborhood gnomes and garden gnomes, you open the door to endless imagination and creative play. Do you know the power of imagination?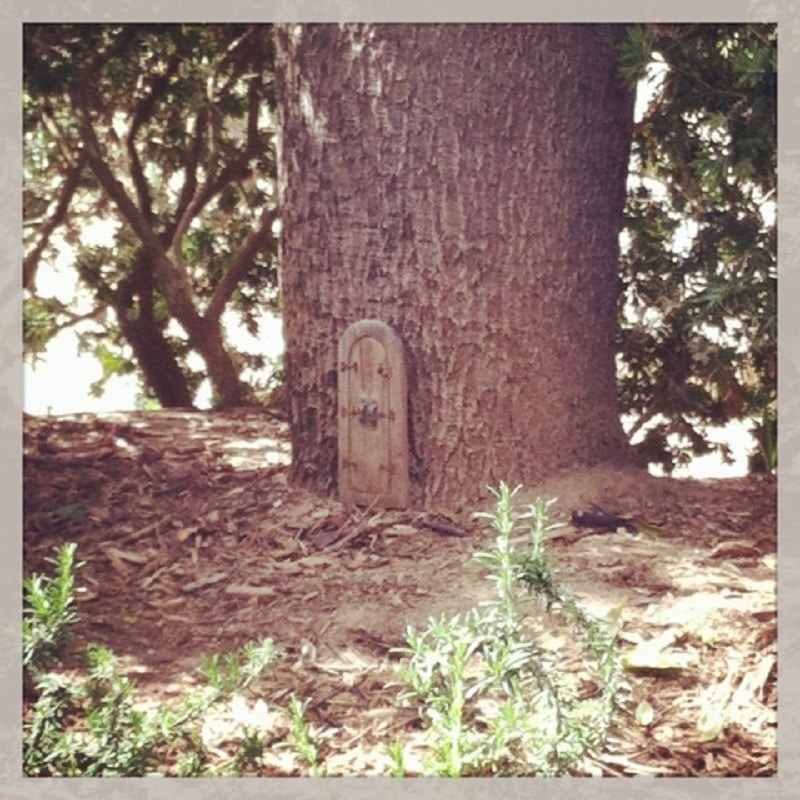 Children love to use their imaginations to see magical characters come to life. So why not bring some mythological folklore to your garden or park by creating an enchanted treehouse? Gnomes seem to prefer living in a natural environment like the base of a tree. Trees are the perfect backdrop for building a fantastic home.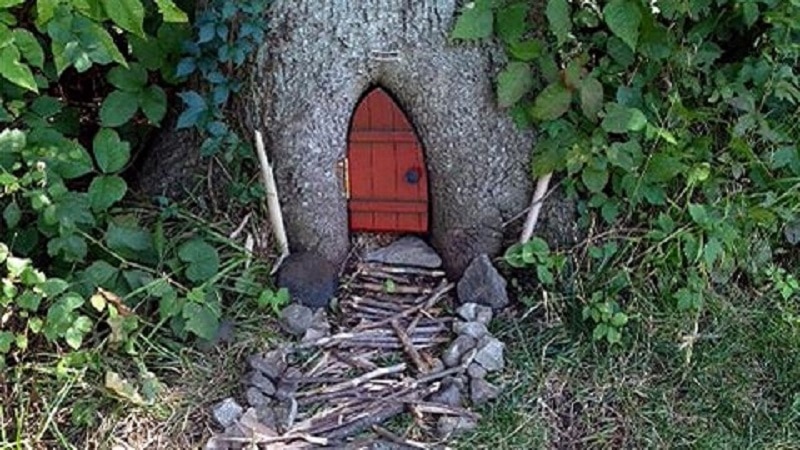 Everyone needs a little magic in their life and not just kids.
Who are the gnomes?
Gnomes were introduced in the 16th century by Paracelsus, a German-Swiss astrologer, physician, botanist, and alchemist. Paracelsus defined gnomes as mythological spirits of the earth.
According to Wikipedia: After World War II, tiny figurines introduced as lawn ornaments during the 19th century came to be known as garden gnomes.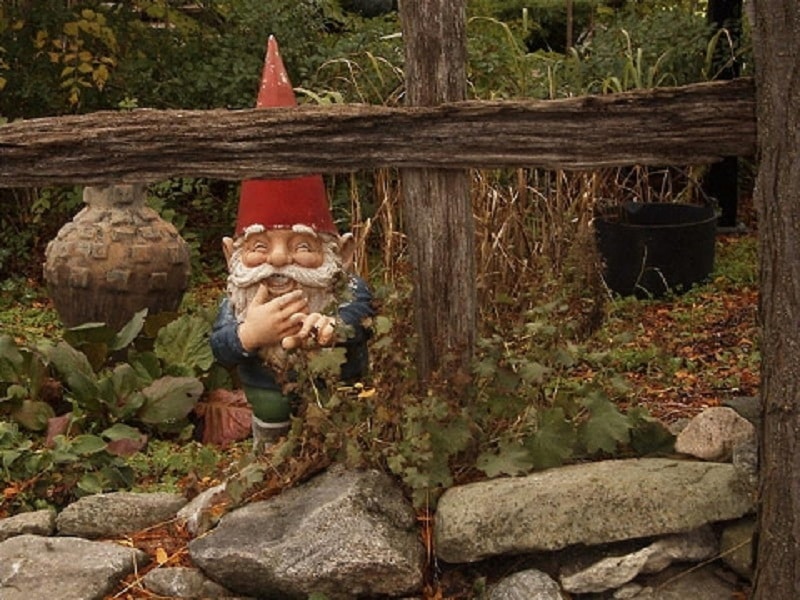 The image of the gnome changed between the 1960s and 1970s when the first plastic garden gnomes were made. These gnomes followed the 1937 Disney style of the seven dwarfs from Snow White.
This "Disneyized" image of the gnome was constructed from a classic illustrated children's book: The Secret Book of Gnomes (1976). In the Netherlands of origin: Leven en werken van de Kabouter.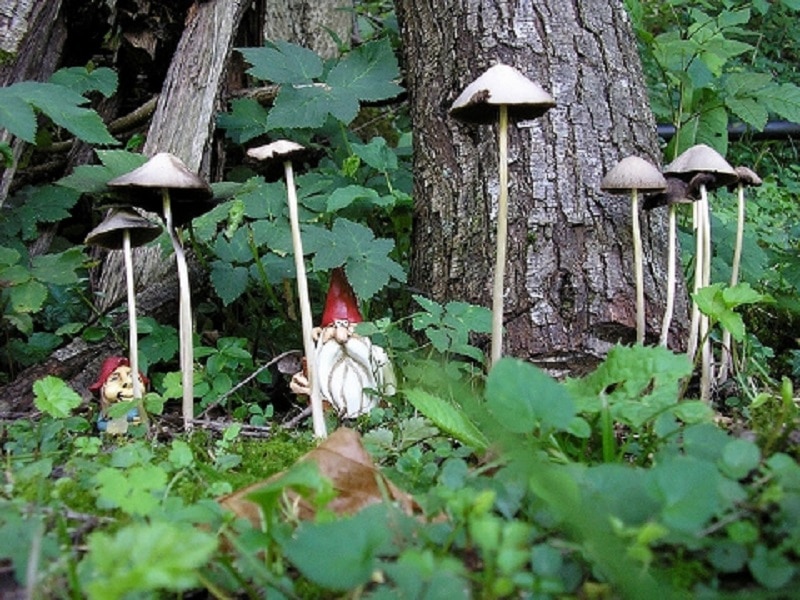 Gnomes have become iconic figures in yards and gardens around the world.
Gnomes are very popular in modern fantasy films and also in literature. They are usually depicted as imaginary human-like creatures that live underground. Their characteristics vary depending on the storyteller. Popular authors who have written stories with gnomes are CS Lewis, JRR Tolkien, and JK Rowling in the Harry Potter series.
What you need to build a gnome house
Ready to build a gnome house with your kids? You can make yours as simple or complex as you want. The examples below found on Squidoo (left) and Crafts Unleashed (right) are very different, but gnomes will love them!
The basis for the whole gnome house is to attach a small door to a tree. Once you've done that, you can add as many details as you want.
Add windows, build a walkway or do some landscaping for your little garden gnomes and gnomes friends to make their home even more welcoming.
Materials: wooden sticks (popsicle sticks can also be used), glue gun or strong glue, scraps of fabric, paper and pencils, a small brush or wide brush to clear debris around the tree, decorative stones and pebbles (optional), miniature and other objects to personalize your gnome house (optional), acrylic paint and brushes or markers (optional).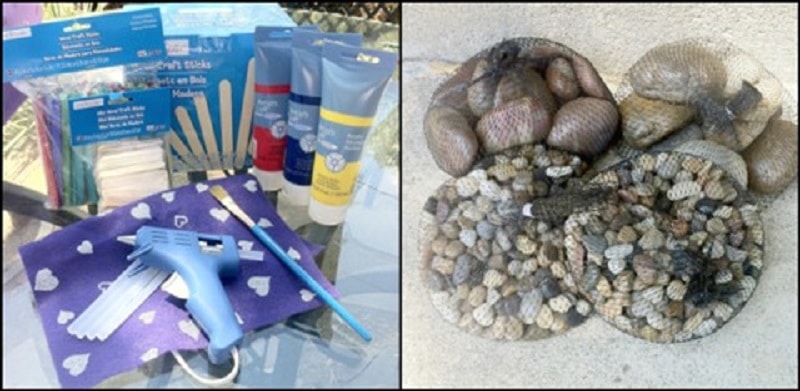 Before building your gnome house, sit down with your child(ren) and talk about the gnomes that live in your garden. Use your imagination: Who are they? Is it a family of gnomes? Maybe he's a gnome who shares his home with small animals.
Whatever the backstory, take notes. You can also make a dwarf drawing or dwarf coloring to better visualize your dwarfs/gnomes.
Once you have an idea of ​​who they are, discuss what to build.
Prepare your gnome house
Gather your supplies, then go outside. Take a walk around your garden (or a park) and look for a tree to use as a backdrop for your gnome house. Find a comfortable place where the gnomes and dwarves in your neighborhood will like to rest.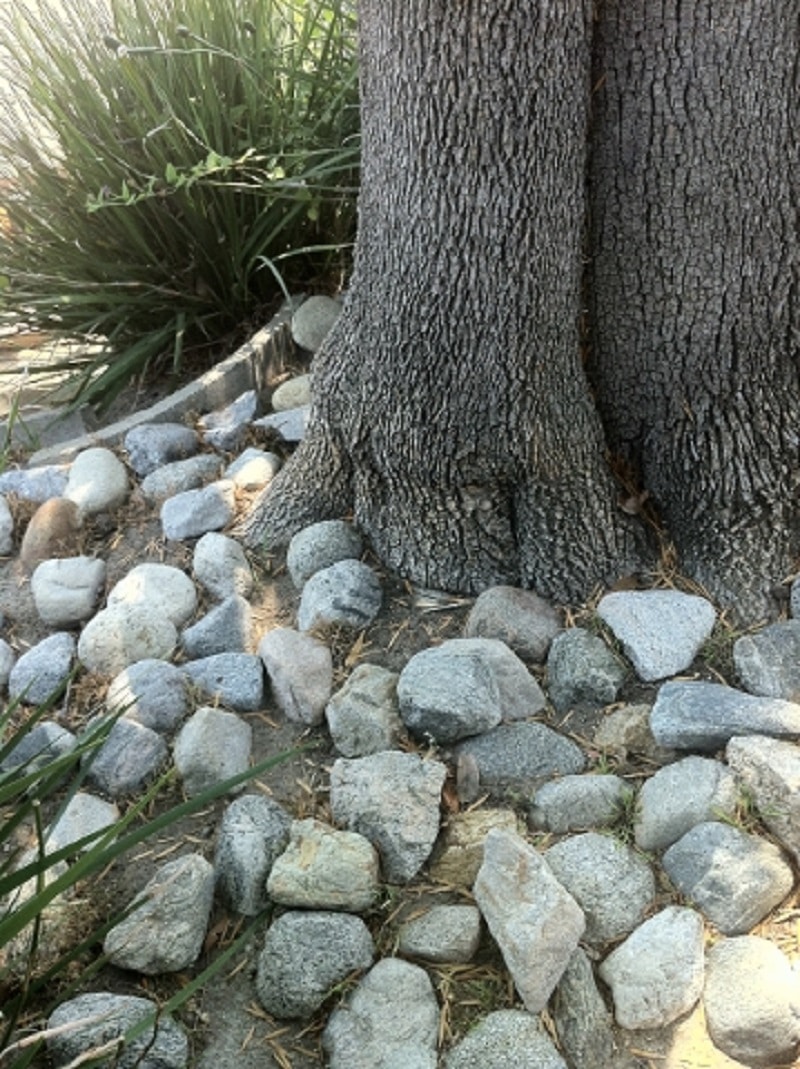 Once you've found the perfect location for your gnome home, start making plans. Decide what to include in your home construction. You may want to add some openings, but let your child lead the conversation.
Make a list and/or draw a picture of what it should look like. Your gnome house can be very simple with just one door or have lots of doors and windows, as well as exterior decoration, landscaping, and so on.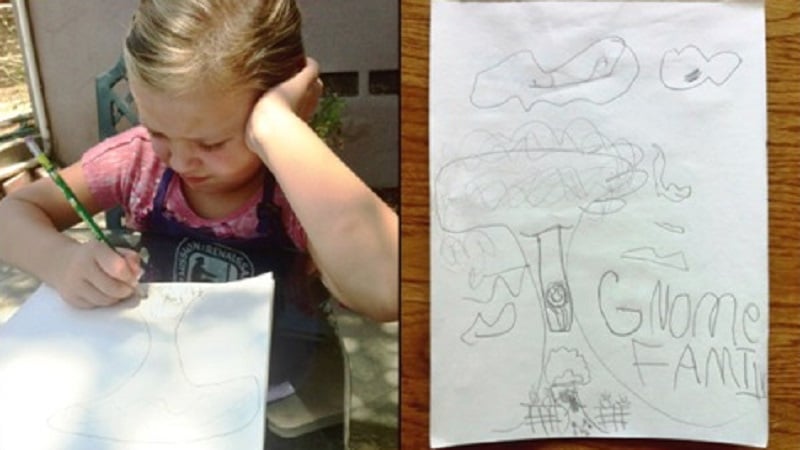 Taking a few minutes to decide what to build and plan it out will give your child a clear direction for their creative process. Tell your child that ideas can change. It's just a starting point. It is also a skill that will help him considerably in the future.
Build your base scenery
Leave their natural color to the wooden sticks or paint them. If you decide to paint them, use exterior or acrylic paint (more weather resistant).
Use the wooden sticks with glue to assemble the windows and doors for the gnome house. Build as many windows and doors as you want. We thought it might be interesting to include space for neighboring fairies.
For the windows, form a square with sticks, and glue them together at the ends. For the doors, lay two sticks horizontally next to each other, then glue them together by taping one stick flat against the tops.
Add a small knob or something similar to make a doorknob.

Safety note for parents: If you use a glue gun, show your children how to use it correctly or do it yourself for young children. The tip can be very hot and burn you easily. Not only is the gunshot, but the glue will be hot too.
Get creative with your popsicle sticks. Think of other things you can do. How about a bench or the steps leading up to the door?
Brainstorm a few ideas, but encourage your child(ren) to use their imagination.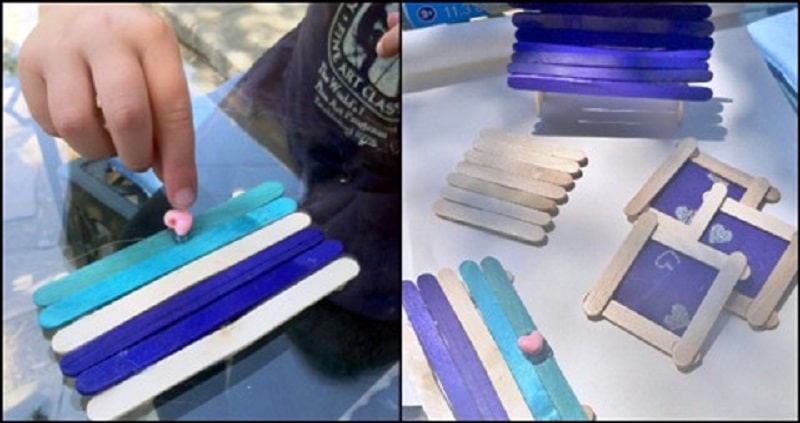 Since your kids may need help building more complex pieces, this is the perfect opportunity to work together as a team.
Once you've built the items, find a way to decorate them. For example, to make curtains for windows simply cut fabric and glue it on.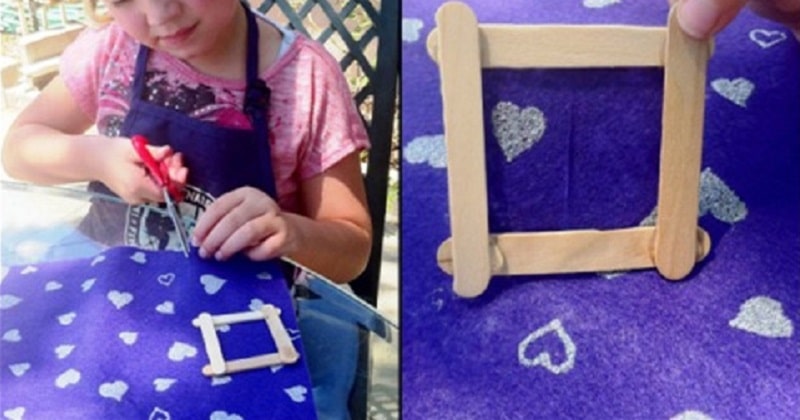 Another option is to use markers or paint after construction.
Create landscape elements
Create decorative details for landscaping if desired.
For example, you can place a small piece of polystyrene foam inside a mini terracotta pot. Then stick one or more artificial flowers on it.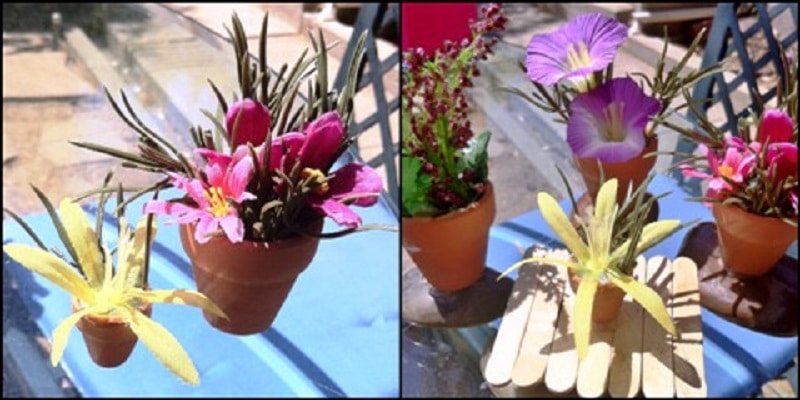 Assemble your gnome/dwarf house
Take all your elements and go near the chosen tree. With a large brush or brush, remove excess dirt and debris from around your tree. And to avoid damaging the trees, do not use nails. Instead, stick your gnome decor to the tree with glue.
One element at a time put a large amount of glue on the back of your doors and windows, then glue them to the tree. Hold the items in place for a few seconds while the glue dries.
Once you have completed the house, begin the landscaping.
Use small stones and pebbles to create a path to the gnome house. Then add the details and elements you created, such as benches and flowerpots.
Remember the gnome story you made at the start. See if it matches what you created. Now that the gnomes and gnomes in your garden have homes, write stories, poems, or songs about their adventures…
A few final thoughts…
Once you have a location for a gnome house, don't stop there! You will probably discover other suitable places for gnomes or fairy houses.
This adventure is the perfect way for a family to creatively work together outdoors. You can collaborate to build a gnome house. Or you can make an entire village, where everyone creates their gnome or dwarf house.
Glue, a few supplies, and a bit of magic are all you need to work creatively with your kids and expand their imaginations. Moreover, you have created a charming house where all the wandering gnomes will like to rest. It is a "gnome sweet gnome".