Today I share with you a simple idea to make a cardboard fireplace. It's ideal for those of you who don't have a fireplace to welcome Santa during the Christmas holidays. So, now you can create your cardboard fireplace, hang the socks on it for gifts, fire up children's imaginations, and have a great holiday season!
Interest: motor skills and creation
Materials: 5 rectangular pieces of cardboard (the bigger they are, the bigger the chimney), heavy tape, white paper (or paint), red paper, scissors, and glue.
Age range: from 3 years old if you do it together or from 6 years old
How to make a cardboard fireplace
Step 1 to make a cardboard fireplace
Set up the hearth of the fireplace: Assemble the five cardboard boxes by first stacking 2 x 2 cardboards on top of each other lengthwise. Then bring them together with the fifth cardboard at the top. Hold all the boxes together with the big tape.
Step 2 to make a cardboard fireplace
For this step, you have two possible options: either you paint the base of your cardboard fireplace with white paint, or you tape white paper over the entire surface (do only the front of the fireplace because the back does will not see, so it is not useful to do it).
Step 3 to create a cardboard fireplace
Cut out the bricks: use the red paper to cut out bricks of approximately 15cm x 5cm (between 80 and 100 bricks). This is a step that takes a little time but is very good for developing children's motor skills, especially fine motor skills, it will help them in school.
Step 4 to make a cardboard fireplace
Follow the image below to stick your bricks on the cardboard fireplace (you can also follow your imagination). When you have finished gluing the bricks to the front and sides of the fireplace, all you have to do is position it in your home and decorate it with the children.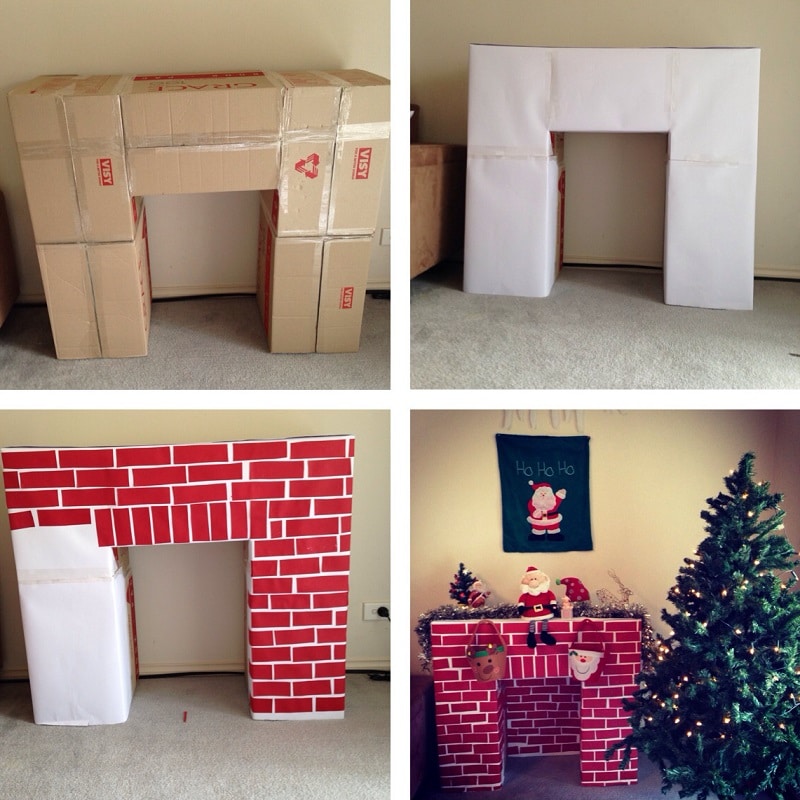 Enjoy your cardboard fireplace
Now that you've built your cardboard fireplace step by step, all you have to do is enjoy it in every way possible. You can, for example, play a game there with your children. The chimney will then serve as a fortress or control tower.
Or, you can use it as a shield during your paint shooting sessions. It would be a lot of fun to fight with your children, to laugh until you cry. Otherwise, several tips can be found on the internet to use your cardboard fireplace wisely.
On the other hand, what you cannot do is use it to keep you warm in winter, for example. For this kind of wish, it would be necessary to buy a vitriform fireplace insert glass ready for use. And obviously, it would have to be installed on a real fireplace.
It is, therefore, necessary to know how to differentiate the cardboard fireplace, intended for fun, from the wooden fireplace in which you can light a fire and keep yourself warm. But nothing prevents you from having both, especially now that you know how to easily make a cardboard fireplace. After, it all depends on your imagination to make it even more fun.