Today I suggest you discover an easy tutorial in pictures to make a flower card for Mother's Day or a birthday. You will find following the activity other photographs of simple and original ideas for making flower cards!
Interest: development of fine motor skills
Material: paper of different colors, scissors, and glue
Age group: from 5-6 years old
Make a flower card: easy tutorial
Step 1: the first thing to do to make this flower card is to cut out the different elements in different colored papers (as below). To make your job easier, you can use this pattern: all you have to do is cut out each element and reproduce them in the color of your choice (keep the green for the stems)!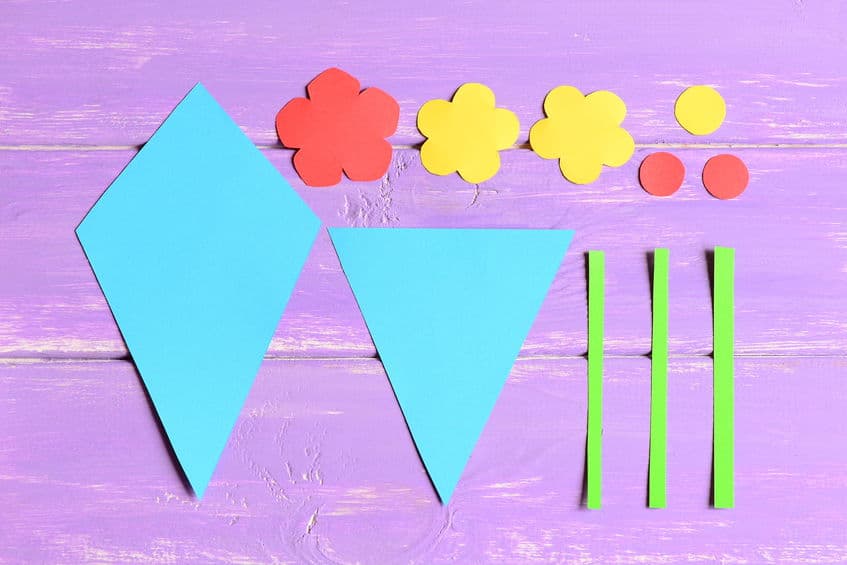 Step 2: you will now assemble the elements. Glue the blue triangle on the blue diamond (don't put glue everywhere, just on the edges so that you can slide the flowers in afterward) to make a kind of vase. Glue the small colored circles in the center of the flowers and then glue the flowers on the green stems as below.
Step 3: the last step is to simply slip the flowers into the vase. You can then write a small message on the front or the back of the pot.
Other easy flower card ideas in pictures
Here are other picture ideas that are relatively easy to make with children. These Mother's Day cards are sure to delight moms or people who will receive them from children. Choose a template, gather the materials and start making a card with flowers. For most of these ideas, all you need is paper, scissors, and glue… except for some like the one with pastes that you will have to paint and let dry before you can stick them on the map.