Kids Diy
Fall Diy With Tree Leaves: Lots of Ideas
Autumn is here! The leaves are beginning to take on beautiful shades of red, orange, yellow, and gold. As the air turns chilly and the season begins to change, it might just make you want to start crafting with your kids using all those amazing fall colors. If you're looking for a fall craft with tree leaves, here are some fun ideas to make with the kids.
As many seasoned parents will tell you, there are a variety of creative crafts to do with kids in the fall, from decorating pumpkins without carving, to making Halloween characters out of toilet paper rolls, or even this Harry Potter pumpkin juice. But projects with tree leaves rank among the best (and often the most interesting) you'll do this season. Although raking all those leaves isn't the most ideal way to spend a Saturday.
That's because there are so many different things you can do (and ways to incorporate) leaves into your family's art projects, whether you're looking for an easy-to-make fall craft or a little more. implied. From several different painting activities you can do with leaves, like using puffy paint, to tutorials that will teach tweens how to turn leaves into intricate butterflies and fairy puppets, to comic strips friendly, children will have the chance to show their talents (and be busy at the same time).
Fall DIY with tree leaves: 20 ideas
Many of these fall tree leaf crafts can be made entirely from things you already have at home (literally, you can find the main materials – leaves – just by going out to your garden or a local park), or can be found for cheap. Below, you'll find some great fall DIY ideas with tree leaves, all in pictures.
1. The Leaf family (puppets for the little ones)
Start by creating this cute Leaf family using paint (you can use wiggly eyes if you like), then stick them on popsicle sticks to turn them into little puppets. Then create your own (seasonal) stories!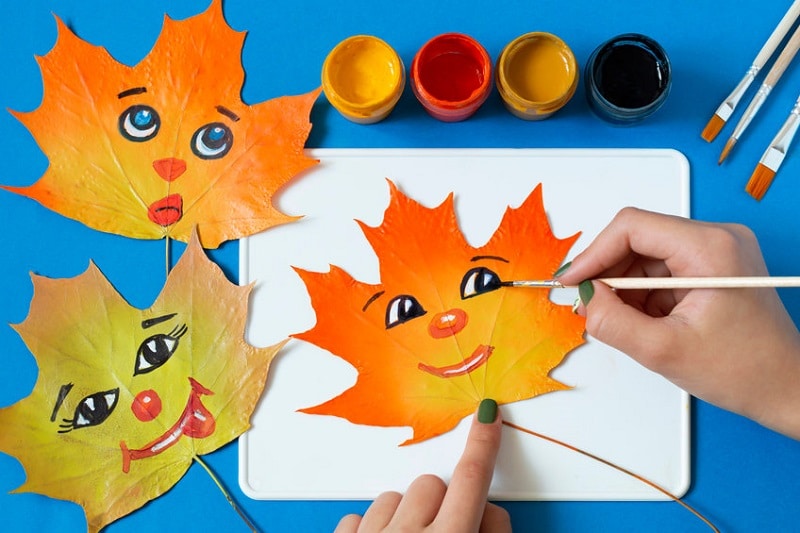 2. The leaf fairies (puppets for older children)
For a version more suitable for older children, these fairy puppets (tutorial in English but with lots of photos and a template to download) made with tree leaves are as beautiful as they are unique and will certainly appeal to teenagers.
3. Autumn impressions
Use your autumn tree leaves to make prints on different media. For example, you can put paint on the leaves and make prints like below. But you can also use the leaves with salt dough or modeling clay: by pressing hard the veins of the leaf are printed on the support.
4. The "handprint" tree
If you have young children, opt for this traditional fall tree project that incorporates lots of tree leaves. You can start with a walk in nature to collect some leaves and end with a nice souvenir. Use it as seasonal decor to go over the fireplace. The idea can also be used in the classroom. Imagine all the beautiful fall trees kids can create and how awesome your classroom will look with all those fall trees hanging on the walls.
This autumn craft with tree leaves is fun and done in three easy steps: harvest leaves, trace the handprint on brown paper and glue it on a white sheet, and finally glue the leaves on. trees. The larger the sheet of paper, the more space you have for the sheets. Start with the large leaves on the outside, then use the smaller leaves as you get closer to the hand.
5. Animals (real or imaginary)
The leaves and twigs are free, which makes this DIY super cheap! All you will need besides your sheets are glue, scissors, and a sheet of paper. The rest is up to your imagination! You just have to try different positions.
With a little imagination, it is quite easy to create animals (real or imaginary, let the children do it) with just tree leaves. Here are some ideas:
6. Animals + elements of nature
The idea for the craft above was to only use leaves to create animals, but you can also use other natural elements for your creations. Go for a walk and collect everything that can be used to create animals.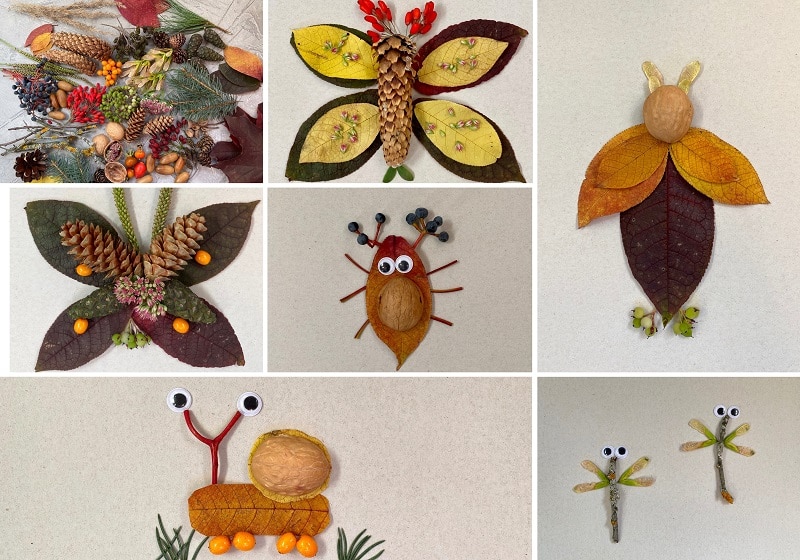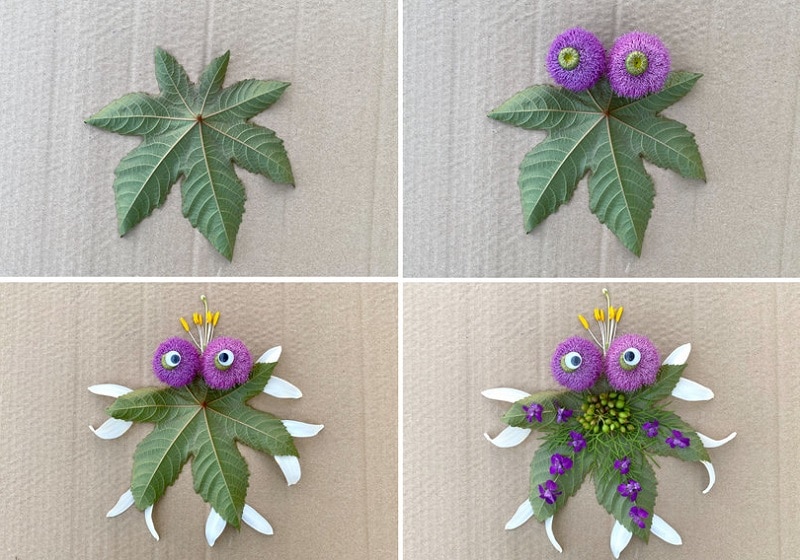 7. Animals + cardboard support
Another way to create animals from tree leaves is to create a cardboard stand: either for the body or for the head. Look at some examples below.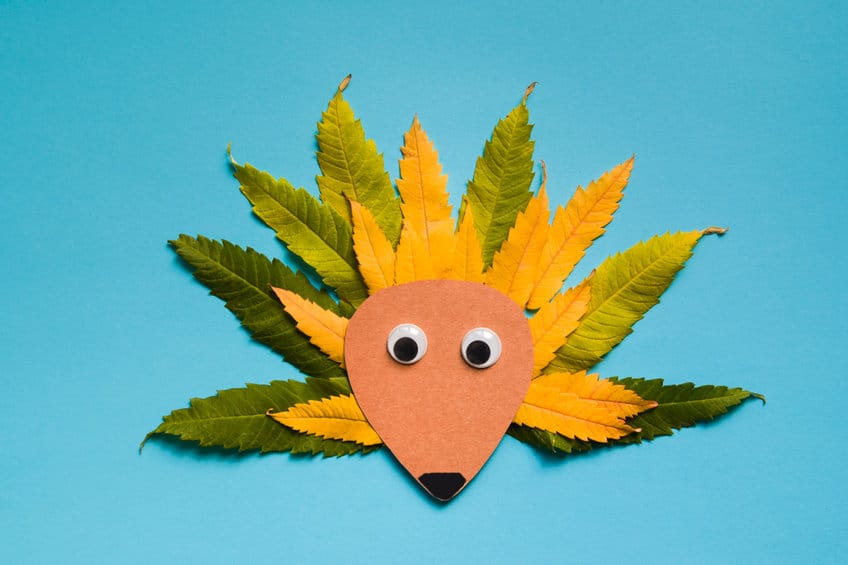 8. The painting workshop
Tree leaves can be a wonderful medium for letting your imagination run wild with paint. Decorate the leaves however you like!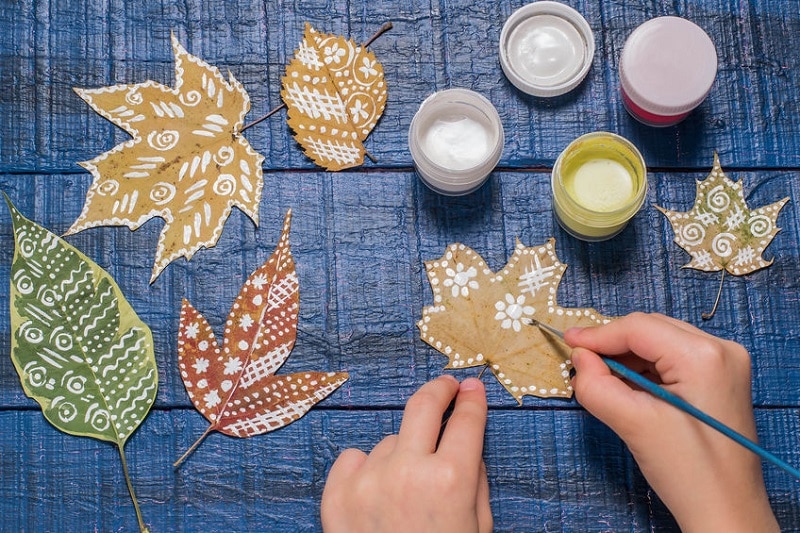 9. Halloween Ghosts
This Halloween craft with leaves is easy for kids of all ages to make and will look great decorating your living room or bedroom this Halloween.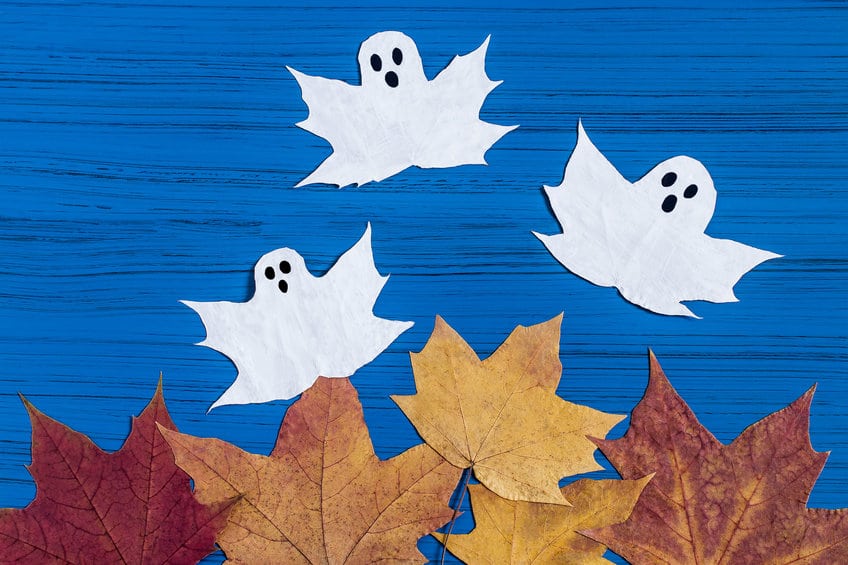 10. Halloween characters
You can also make other Halloween characters out of tree leaves with paint. Get inspired by the photography below and get started!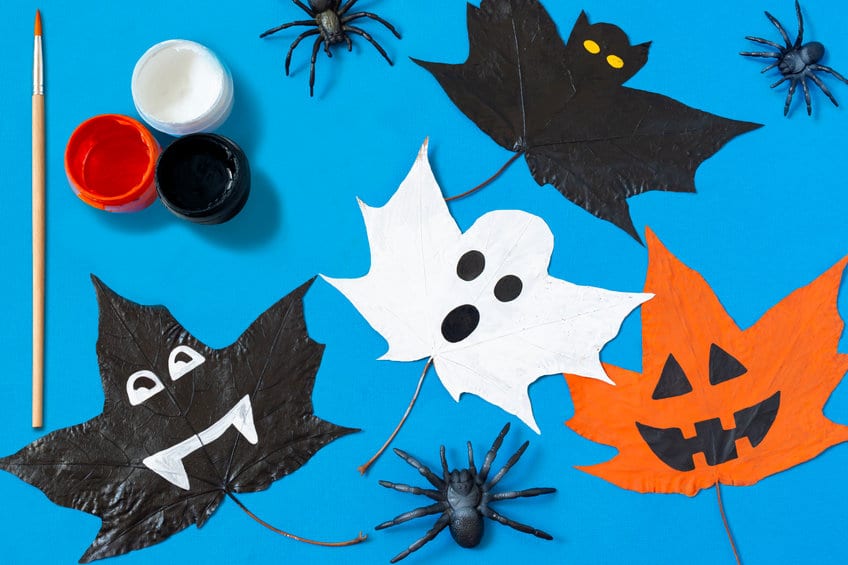 11. Silhouettes
For younger children, provide them with a cardboard backing and have them create silhouettes of the leaves they have collected from the wild.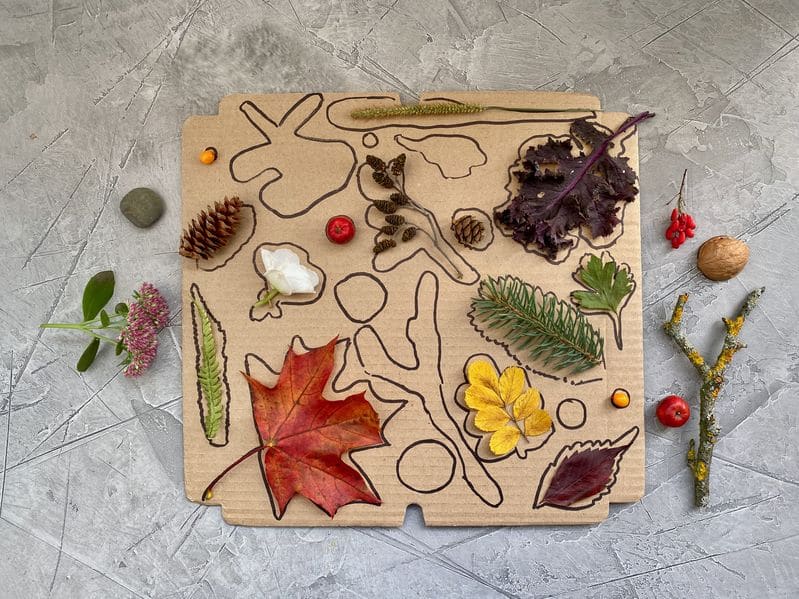 12. Goofy Characters
Provide black markers and wiggly eyes (wiggly eyes are magic to bring all sorts of things to life) and have children create characters. They can then hang them on the walls of their room (or elsewhere)!
13. The colorful mobile
Place your tree leaves in books for a short week to make them flat. On your fall leaf craft day, simply lay out the paints and brushes and let the kids design their colorful leaves! They can then sprinkle glitter. Let them dry overnight. The next step is to wrap a stick with wool. Then use yarn to hang the leaves on the stick and your fall leaf mobile is complete!
14. Fall Decorations
Choose a medium, such as a pumpkin, and stick leaves on it to make a fall decoration or a Halloween decoration.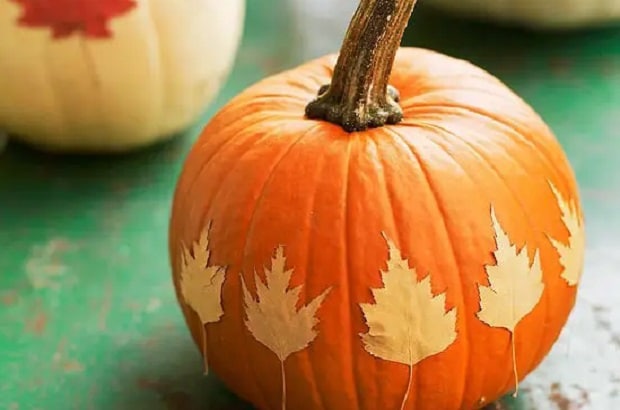 15. Forest Friends Wreaths
You can make all kinds of wreaths with tree leaves. Get inspired by the models below and try to create your own. Young children will love it.
16. The Autumn Candle Holder
Carefully glue tree leaves to the outside of a small, empty glass jar, then add a candle and marvel at the look of stained glass.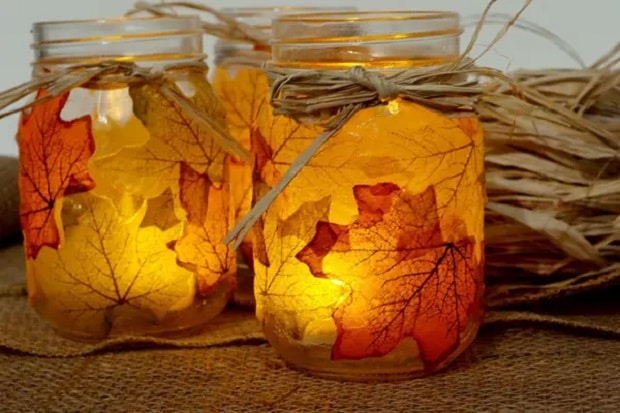 17. The Dried Leaf Mandala
Take the dried leaves and arrange them into fun mandala designs. It's relaxing to create patterns and shapes from leaves of different shapes.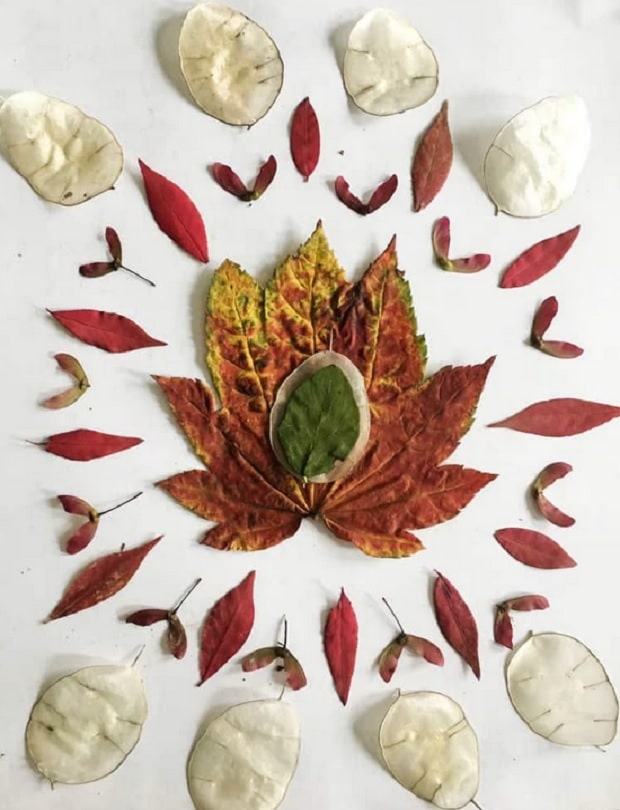 18. The Autumn Lantern
To make this lantern, get an empty camembert box and cut two sheets of greaseproof food paper that fit around your box and at the height you want. Lay a sheet flat on the floor and place some glue. Add leaves: let the children do whatever they want! But your fall lantern will have a better glow if they don't overlap too much. Add more glue, then place the second sheet of greaseproof paper. You can then place books on it for about an hour to give a nice smooth flat finish. Take your camembert boxes then staple or glue the resulting sheet to part of the box. Then repeat the process for the bottom. Add twine so you can hang your lantern.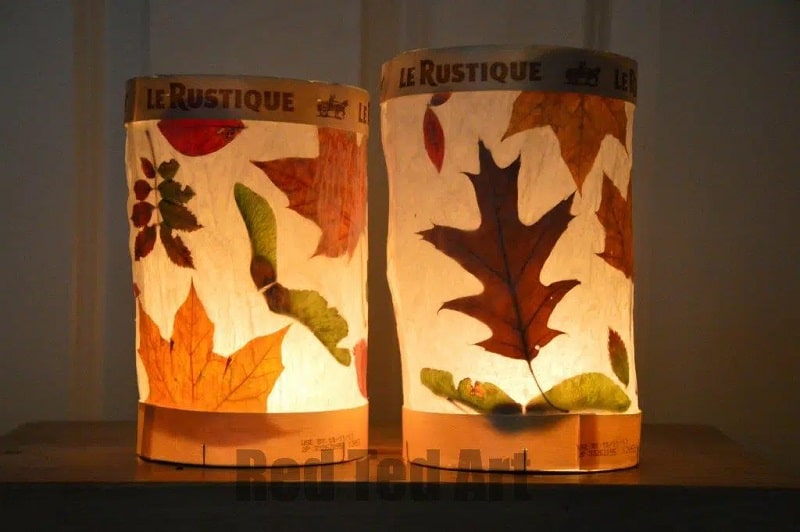 19. The little beings of nature
This project will appeal to the youngest. These little beings of nature are both fun and hilarious. To set up this autumn craft activity with tree leaves, start by gathering autumn leaves, acorns, small twigs, paper, and glue. Then invite the children to make their little beings of nature.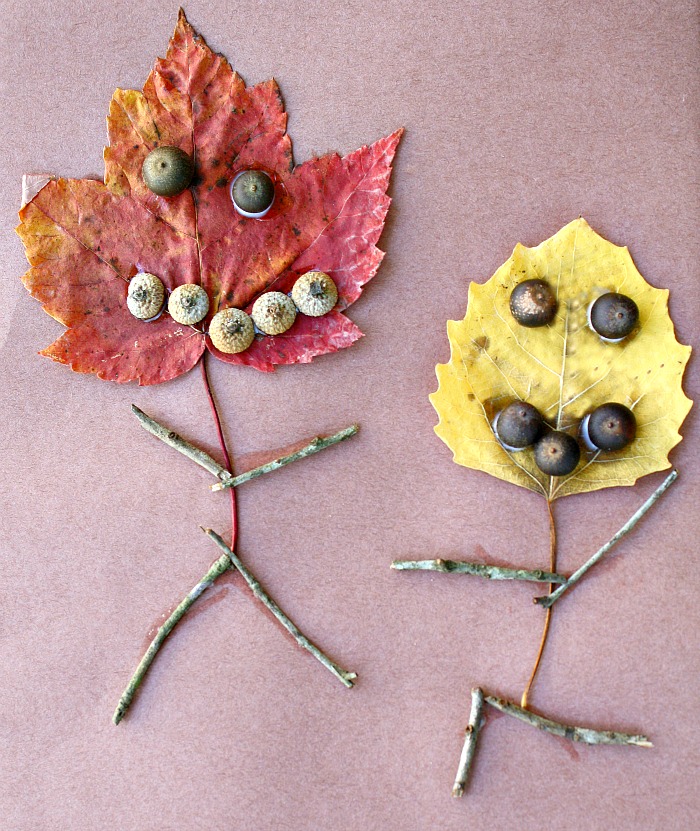 20. Crowned Characters
Invite the children to draw ahead and then use leaves to create a crown or a beautiful hat for it. Here are some fun ideas to inspire them: