Kids Diy
5 Nature Craft Ideas Your Kids Will Love
Most kids love being outside: the way the sunlight casts interesting shadows on the ground, the noisy birds and colorful bugs, and the feeling of slimy mud and slippery grass. All of this provides children with an engaging sensory experience that they simply cannot find indoors.
One thing that can make time spent outdoors even more fun is to engage your child's artistic side. Literally! Combining nature and art is not only fun but also easy for parents. You don't have to worry about damage or materials, and you can throw perfectionism out the window. Since everything in nature is unique, no 2 crafts are alike.
If your family loves nature and DIY, you'll love these 10 kid-friendly crafts that capture the best of both worlds.
1. Write with nature
Toddlers through to older elementary-aged children will love forming the letters of their names with random objects found outside. Sticks, rocks, leaves, flower petals, seashells, and more, can all be arranged together to practice creating individual letter shapes and mastering spelling.
The best part is that this activity is also completely customizable for your child: go big and take up half the aisle, or make it miniature and glue the objects to a piece of cardboard paper. It's your choice!
Materials needed:
enough found objects to spell your child's name

construction paper or something to fix/glue everything together (optional)
2. Natural brushes
If your kids like to paint with regular brushes, they'll love painting with handmade brushes made from natural elements! Gather the leaves, branches, or flowers first, keeping the stems as long as possible.
Collect sturdy twigs about six inches long and tie the foliage stems to the twigs with rubber bands or string. Then use your new brushes to paint whatever you want. The beauty here is in the shapes and textures you will achieve by painting with unusually shaped brushes.
Materials needed:
twigs or small sticks

rubber bands or string

assortment of flowers, pine needles, leaves, etc.

paint and paper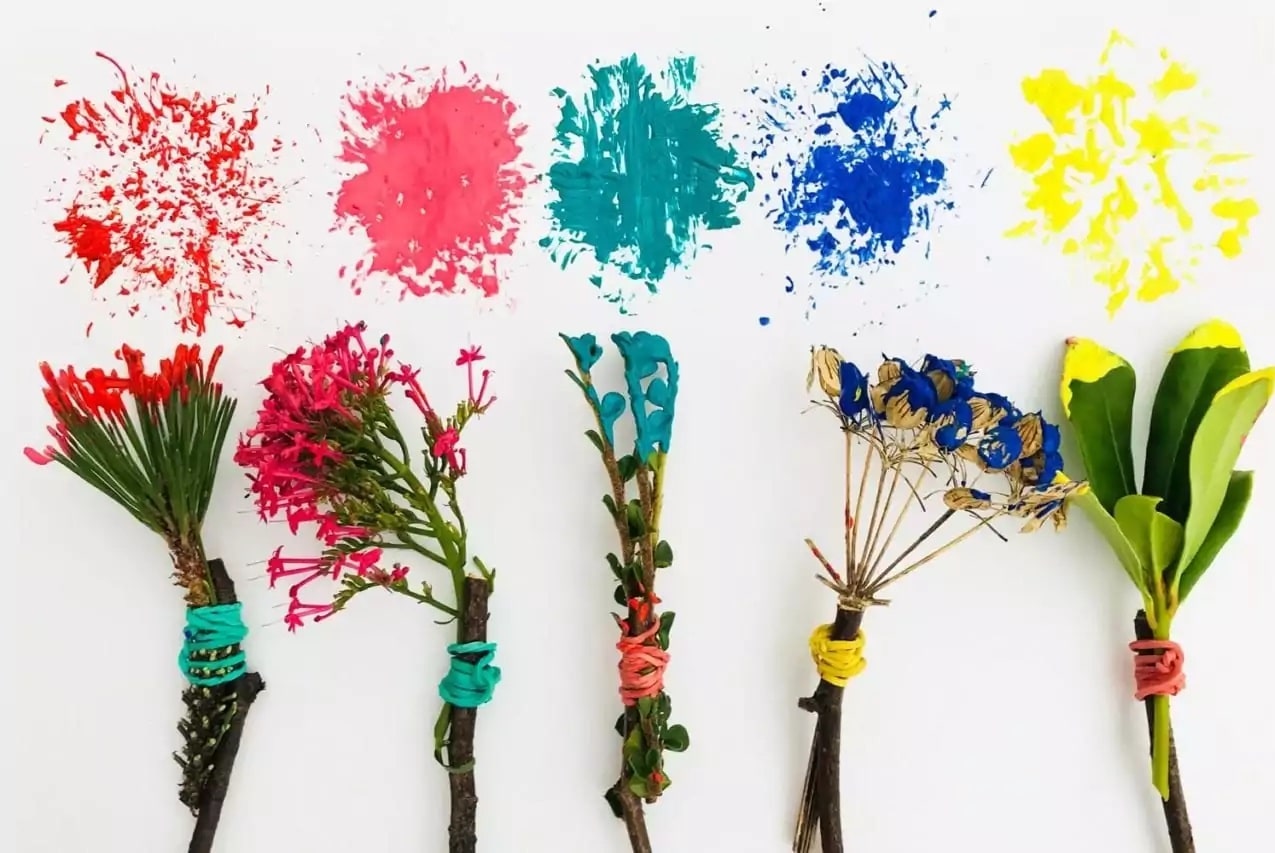 3. Rock caterpillar
You have already painted on pebbles or rocks with your children, but have you ever painted rocks to assemble a caterpillar to install in your vegetable garden? This adorable and super simple project requires you and your child to work as a team, painting one set of stones to make the caterpillar's body and one for the head.
With a few small twigs or leaves stuck to the head at the end for antennae, you'll have an adorable new friend to display outdoors (one that can't eat all your plants like its real-world counterpart!).
Materials needed:
assortment of pebbles or rocks

exterior/waterproof paint

paintbrushes

objects for the antennae-like small twigs

great glue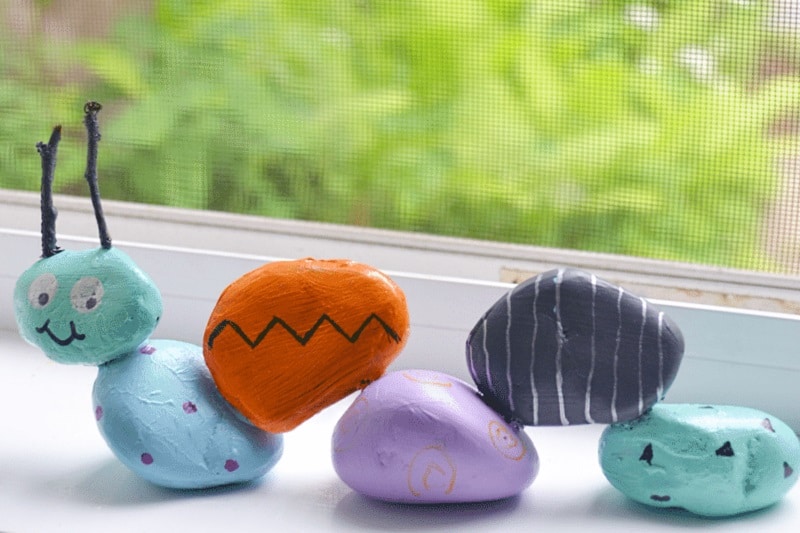 4. Bark Owls
These little owls are cute and relatively easy to make! Bark Owls can be crafted from a variety of natural objects, which means they can also vary in size, color, and shape. (Just think: you could create a whole family of owls!) Older kids will love this project too, as they could keep adding details to go beyond the basic setup.
You can also stick magnets on the back of these to decorate a fridge or a whiteboard with a collection of owls for fall.
Materials needed:
whole pieces or strips of tree bark

tassels

twigs, seeds, leaves, etc.

strong glue
5. Seed Bombs
I like this latest nature craft because it does three things: it's good for the environment, it's fun to give away, and it's awesome to make! With a few basic ingredients, you and your kids can make ready-to-throw seed bombs to attract all kinds of birds, bees, insects, and butterflies to your garden.
It's not a difficult nature DIY, but it does have a few steps, which means it will keep your kids engaged for quite some time. You can get creative with the shape of your "bombs" or just roll them into balls. And you can give some away when you're done, for a gift meant for the whole season.
Materials needed:
flower seeds

powdered clay

peat-free potting soil

water

bowl or salad bowl

hob